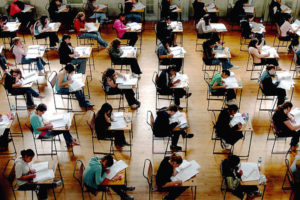 Are you planning on heading to your dream college or university in the US and need to get over the hurdle of the SAT, ACT or TOEFL exams?
You're not alone! Nothing can prepare you like attending an test preparation workshop led by a professional. Meet UStudy's workshop facilitators.
Robin Schuessler is a qualified American English teacher working with UStudy. Robin has a Bachelor's degree in English and Spanish from the State University of New York. She was a SAT Preparation Instructor at Kaplan in Miami.
Lucas Franchi is an American teacher who has lived in the Netherlands for two years, and has more than eight years of teaching experience. He worked as a SAT prep tutor for the Princeton Review. Lucas has had teaching experience in the Netherlands, China and Korea, and is now one of UStudy's workshop facilitators.
Stefania Lessen was born and raised in New York City where she attended school and started her bachelor degree at Hofstra University. She is currently studying at Webster University in Leiden where she will soon graduate in December 2016 with a BA in International Relations with a Certificate in Human Rights. She is also preparing a thesis about the Brazilian Economy for law school applications. She hopes to to study law at Leiden University and eventually practice International Business law. Stefania has experience teaching a variety of subjects from English to mathematics.
Sara Ashley Burnham has lived in Europe for 20 years, including 16 years in the Netherlands. She earned her Bachelor and Master degrees in International Relations at Webster University. Prior to that she studied at the International School in Luxembourg, where she also worked as a teacher's assistant for French. Sara Ashley is an experienced teacher for all subject matters that are relevant for American admissions tests. Apart from English she is also fluent in French, and speaks some German and Dutch.
Why attend a test preparation workshop?
– You'll see and work through a real example of a SAT, ACT or TOEFL test. This familiarizes you with the structure of the test
– Find out your weakest points and work on them
– Develop your strategy and how to pace yourself
– Learn how to write a 'persuasive' essay
– Learn how to do well with no stress!
Our test preparation workshops are tailored to your needs. We keep the group small, so that you get as much attention as you need. The workshops are 3 hours long, and you can attend as many as you like or need.
[maxbutton id="39″]