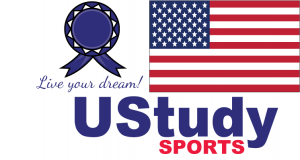 Press Release
Record number of participants take part in 2015 Go USA Hockey Showcases.
Voorburg, the Netherlands (May 26, 2015). The annual Go USA Hockey Showcase has grown immensely in popularity since its inception in 2012, with a record number of participants signing up for two showcase events held this year on Sunday May 24 and Monday May 25. Organized by UStudy Sports, the events were held at VMHC Cartouche near The Hague this year.
The showcases quickly filled as demand for participation was at a record high – with 50 participants from the Netherlands, Belgium and the UK registering to demonstrate their skills and take the first step towards studying and playing varsity hockey in the US. "This year's showcases were unique in that we hosted 2 showcases this year: one for national level players and one for all other levels. We feel that this set up enables the players to demonstrate their talent in an even better way," said UStudy Director Marina Meijer. This year, American company Front Rush will be distributing videos of the games to college, university and high school coaches in the US, extending the participants' exposure even more.
During the showcase, Coach Daan Polders, former coach at Wake Forest University and Michigan State University, held clinics and supervised the games. After the events, each player will have access to online links to videos of the clinics and games, and an evaluation by Coach Polders per US standards. Talking to the participants before the games, he said "everyone needs to give the best you can as you will be challenged by American style drills and an intense program during the day. But also be sure not to be nervous and just enjoy this unique day of clinics and games."
Among the international participants was Maddie Denman. She and her parents flew from England to attend this event. "We by chance heard about this showcase from our club coach in Norwich. We thought this was such a unique opportunity to get evaluated for US college hockey. Our daughter is very keen on combining her passion for sports with a liberal arts education in the US, especially now that tuition at UK universities have been risen sharply," they commented.
During an information session for players and their families, former UStudy clients who are currently playing for US varsity teams shared their experiences and tips. "I really was pleasantly surprised by the high level of field hockey in the US. Initially I was thinking of maybe staying only for a gap year, but after a few months there I knew I wanted to complete my bachelor degree in the US and get the most out of my experience as a student-athlete" said Nadine de Koning, who participated in the 2013 showcase and is currently studying at the University of Virginia.
The showcases are designed to give European student-athletes a chance to demonstrate their skills to coaches and get evaluated according to American standards. Participating in the showcase and listening to people who share their experiences gives the participants a good impression of what they could expect if they then choose to engage in UStudy's placement. Previous showcase participants have been recruited for top schools like Boston College, University of Virginia, University of Maryland, University of Delaware, Syracuse University and Columbia University.