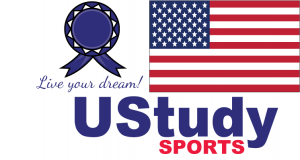 Press Release
20 US coaches and 31 hockey players take part in the
Go USA Hockey Showcase 2014
(30 May 2014) It's not just the Hockey World Cup that is bringing foreigners to Dutch shores. A large number of US coaches were in the Netherlands on Thursday, May 29 for the Go USA Field Hockey Showcase 2014. Organized by UStudy Sports, the event was held at SV Kampong this year, one of the leading hockey clubs of the country.
20 coaches attended the event, including coaches from Yale, Penn State, Maryland and Syracuse University. Participation too was at a record high – with 31 female hockey players from the Netherlands, Belgium and the UK registering to showcase their skills and take the first step towards studying in the US. "We were very happy with the caliber of the participants; these were really top level players and many received high interest from the attending coaches," said UStudy Director Marina Meijer. "We also had a record number of coaches in attendance, which is an indication of the growing demand for Dutch hockey players in varsity teams," she added.
During the showcase, Coach Daan Polders, former coach at Wake Forest University and Michigan State University, held clinics and supervised the games. After the showcase, each player will be given a video of the clinics and games and an evaluation by Coach Polders per US standards. Talking to the participants before the games, he said. "This is all about you; be active, be hungry and show them your best."
Among the international participants were Peter Minta and his daughter. Both took the boat from England the night before to be part of the showcase. "My daughter is very keen on playing hockey in the US and a friend told her about this showcase. We hadn't heard of something similar in the UK and decided to attend this. So far, I have been very impressed by the facilities and I look forward to the follow-up," he said.
Mark Borgers, Technical Manager Kampong Hockey, held a special seminar for visiting coaches on Talent Development and using different methods of deliberate play. This seminar was offered to the coaches by the KNHB. During an information session for players and their families, former UStudy clients who are currently playing for US varsity teams shared their experiences and tips. "Many people don't know about Division III colleges, but they also can be a great combination of sports and academics," said Megan Hut, who is currently studying at Earlham College. Hut, who participated in the 2012 showcase, added, "The showcase really helped because we got a chance to show our skills to coaches and we got an evaluation per American standards. Being at the showcase and listening to people share their experiences is what convinced me to study in the US."