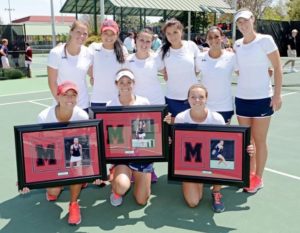 Which American university did you attend, and what did you study there? 
I went to the University of Mississippi, also well-known as 'Ole Miss'. I studied Civil Engineering there.
Did you join a varsity sports team in the US? And if so, which one?
I played on the tennis team.
Why did you want to study in the US? 
As a little girl I always dreamed of spending some time in America (for a holiday, or something similar). When it came time for me to make a choice of whether I wanted to play tennis full-time, or study in the Netherlands, I discovered that there was actually a possibility for me to play tennis and study at the same time, in America. For me that was the ultimate opportunity to fulfil more than one dream.
What was the most challenging aspect of being an international student in the US?
The food. I am not a fussy eater, and I find 'American' food to be quite tasty, but not every day. It took me a while before I got used to it and found what I liked and didn't like.
What new opportunities has studying in the US opened up for you since you finished your studies/returned home?
I've noticed that a lot of people are very positive and enthusiastic about the fact that I have studied in America. From teachers, to class colleagues, and work colleagues – they all want to know more about it, and they certainly value the experience that I gained there.
What were some of the highlights of your time in the US?
Traveling with our tennis team to so many different places, and in particular Hawaii, and then when I was in my freshman year we immediately qualified for the National Indoors competition (even my coach was in tears!)
How do you think studying in the US is different to studying at a Dutch/European university?
I've often heard that the level of education in the US is lower, but I've come to learn that it really depends on the university you go to. Furthermore I found it beneficial to not feel pressured to choose what to specialize in my studies so early, which is something that is required in the Netherlands.
What did you think about the application process of getting into a US college or university? How was UStudy helpful to you?
UStudy really helped me a lot. It's been a while now since I left to go to America for the first time and at that time I was still so young and inexperienced. Certainly all the information that UStudy had prepared about deadlines and other advice they gave me were very helpful. I often had very little idea about what questions I should ask and what was required of me from the university and Marina Meijer definitely prepared me well for that.
What are you currently doing in terms of study or work?
I'm currently working on my masters in Civil Engineering (Water Management and Engineering) at the University of Twente.
What are some of your goals for the future?
First I would like to achieve my master's diploma, and where that eventually takes me I don't yet know. I would really like to work overseas and with the experienced I've gained from when I was in American, and now here in the Netherlands, I would like to help organizations and/or countries with any water "problems" they may have.
The University of Mississippi's athletics teams are known as the "Ole Miss Rebels". The school has a long history of athletic participation and the athletic teams are members of the NCAA Division I. Watch this short film about "Game Day in Oxford Mississippi" to get an impression of the immense popularity of varsity sport in the US.