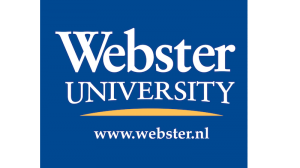 Location: Leiden, The Netherlands
Type: Private university
About:
Founded in 1915 in St. Louis, Webster is the only Tier 1, private, nonprofit university with campus locations on three continents around the world. Our historic St. Louis home campus in Webster Groves, Missouri, is small, vibrant and a center for a global network of student-focused centers that share a vision for educational excellence.
Webster University – Leiden, is the accredited American university in The Netherlands offering Bachelor and Master Programs. The Leiden campus is an urban residential campus offering programs in Management, Marketing, International Business, Business Administration, Psychology, Media Communications, and International Relations.
We are truly an international university with over 45 nationalities currently represented in our student body. As an American university our curriculum is based on the Liberal Arts system, and your campus would be the world. Our campus locations make it possible for students to study complete programs, or study abroad throughout the United States, Europe (London, Vienna, Geneva, Athens), Africa (Ghana) and Asia (Thailand and China).
We provide personal attention from the beginning of the application process to beyond graduation. Classes are small (15-25) and classroom interaction is integral to the student experience.  Additionally, Academic Advisors provide support and assistance for educational planning.  Webster University cares!
Be sure to visit us to discuss options for you at any of our campuses world-wide. We will be happy to discuss different majors, scholarship options in the US and Leiden, student life, and what it takes to become a Webster student. We look forward to meeting with you!
Webster University is more than just your typical University. It offers students synergy between a diverse student population, a rich, cultural thriving city, and a dynamic Living and Learning Center. See how our instructors provide personal attention, the activities that are open to our students and what our current students think about the institution they chose as their number one choice.
Webster University is a Gold Sponsor for the 2016 Go USA Education Fairs to be held on Saturday 17 September at the International School of The Hague, and Sunday September 18 at the American International School of Rotterdam. Webster is also well known for its many global opportunities for students
Fast Facts:
A campus network: Webster has campuses in the U.S., Austria, China, Great Britain, the Netherlands, Greece, Switzerland, Thailand and Ghana.
Educational partnerships: Students can attend classes at partner colleges and universities in 10 countries
Curriculum: Students can choose from programs in the schools of business and technology, communications or education; or select majors in the colleges of fine arts or arts and sciences
22,000 enrolled: Students include traditional college-aged students to adult learners
Diversity is valued: Students at Webster represent 148 nationalities
School Information:
Housing:
Student accommodation is available in Webster's Living and Learning Center located next to our main campus building in the heart of Leiden's old city center. Double and single apartments are available, as well a private courtyard, a fitness room and several community rooms for convenience.
Entry Requirements:
Satisfactory scores on the Academic TOEFL examination (550/80), Academic IELTS (6.0) or Cambridge CAE (C, 180)) examination. Exceptions may be granted to students who have attended an American/International/British school for 3 years or longer where the language of instruction was English.
Tuition: (indicative of 2016-2017)
For full-time undergraduate students the flat fee per semester is €8,000. This fee includes a minimum of 12 up to a maximum of 18 credit hours. Textbooks / e-books for each course are included.
Financial Aid/Scholarships:
Financial aid is not available for international students, however some scholarships may be available. UStudy can assist you with determining whether you are eligible for a scholarship.
Are you interested in finding out how you can apply to this university? Make an appointment with our education advisor to start your own American study adventure.